We appreciate our clients' review and feedback. Here is what they are saying about VMC's services!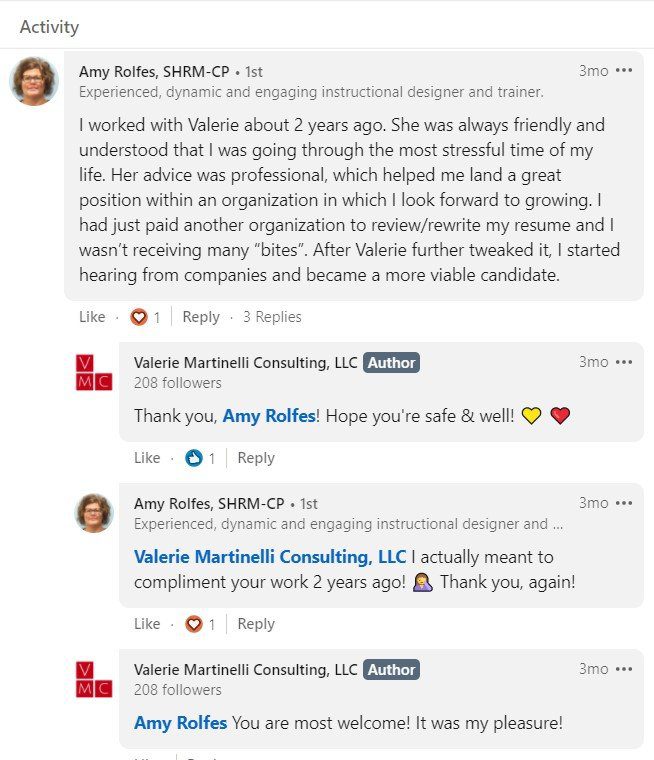 "I recently went to Valerie looking for help with my outdated resume. After our initial phone interview, she got to work right away building my new resume. Valerie was quick and thorough plus it was easy for me. I appreciated her attention to detail and her skill formulating my experiences and knowledge into a new resume that represented me. I recommend anyone looking to update their resume or start a new one to reach out to Valerie. You will be glad you did."
Tina Herman- Practice Administrator, Nuvance Health

"Valerie has done a remarkable job of helping me with my resume. In just two days she was able to recreate my resume in the way I had envisioned: i.e., not just an upgraded format, but a resume which emphasized what I'd done to date and exactly what I wanted to do in the future! She has a very approachable personality, and she is very professional. I chose her over other applicants and I'm so glad that I did. I would be glad personally to recommend her to anyone who is trying to decide between several resume writers."
Susan C. Daly, MD, Psychiatrist

"It was a pleasure and rewarding experience to have been able to utilize Valerie's assistance in preparing myself for my next career move. Valerie possesses a wealth of knowledge regarding the overall hiring and recruiting process. I was looking for someone to help me to fine-tune my resume, and also act as a sounding board as I prepared for interviews. She provides an in-depth program, taking you from resume preparation all the way to salary negotiations and interview preparation. Valerie was able to help me customize a one-one-one program that catered to my needs/concerns. She is a great listener and is great in providing sound and actionable recommendations to aid you in your career transition process. I've walked away from my time with Valerie with a better understanding of myself, which is so important since you need to be able to effectively communicate with hiring managers/recruiters who you are, and what are capable of doing for their company. I would highly recommend her!"
Nancy Lim, Fixed Income Results Manager- Performance & Attribution

"Valerie is a wonderful career coach who I've had the pleasure of working with over the last six plus months. I interviewed several career coaches, and selected Valerie as she felt like the right fit for my needs. She is a warm and caring person and a consummate professional who is deeply committed to helping her clients identify and achieve their individual professional goals. Valerie understands the pressure and stresses of job hunting while juggling a current position along with other personal life issues and has been extremely supportive and flexible, adjusting the program to meet my pace and needs. She is upbeat and inspirational and has always made herself available to discuss situations or concerns as they arose. For me, Valerie has been a combination of career counselor and life coach, helping me to navigate my fears and self-doubts and providing the tools and insights to help me gain clarity into my personal strengths and goals. She encouraged me to develop and practice positive daily habits that continue to serve me well in both my personal and professional life. Valerie is kind and supportive, while gently guiding me back to basics when I got off track and has helped me regain balance and focus when my confidence and determination would wane. Valerie is also a good listener who is able to get to the heart of what you are trying to convey even if you aren't clear. She offers candid, practical and thoughtful suggestions and advice to support your decision-making process to reach your professional/personal goals. Her editorial recommendations and business savvy were invaluable as we undertook the mechanics of updating my resume and LinkedIn profile in accordance with current business practices. Her positive outlook, good humor, and ongoing encouragement have helped me tremendously through this stressful job search process. Anyone lucky enough to work with Valerie will be in good hands. She'll walk beside you and guide you through the peaks and valleys of the search process expertly and stick with you until you land that perfect job and even beyond as you continue to hone skills and move along your career path. I highly recommend Valerie to those looking for an outstanding career coach and partner! "
Barbara Buerkle, CCEP; Consultant- Ethics, Risk, & Compliance Investigations
Background
Coaching involves a transformation. Career coaching is not an exception because it involves a client changing their mindset, their self-talk, and not just standing out amongst other candidates but believing deep in within that they can do it. After all, you have to believe in yourself before a recruiter will believe in your abilities. Coaching is a powerful tool for you to reach this outcome and to transform your career, salary, and your life.

VMC's services are designed to help professionals succeed by boosting your confidence, encouraging you to seek your dream career, and achieve your goals beyond your wildest dreams.


Fix Common Resume Mistakes

Client Testimonial: Lisa Marino
Client Testimonial: Jean Kaplansky 

In salary increases when negotiating job offers!